Every investor is important
• Client needs first
• Verified and reliable trading systems
• Minimum investment starting from $5000
Profitable and Reliable Forex Systems
• Combined return on investment exceeding 5600%
• A variety of unique trading systems in place
Customer Safety First
• Strict Risk Management Techniques inforce
• Funds only accessible by clients
• Investors can terminate trade agreement at any time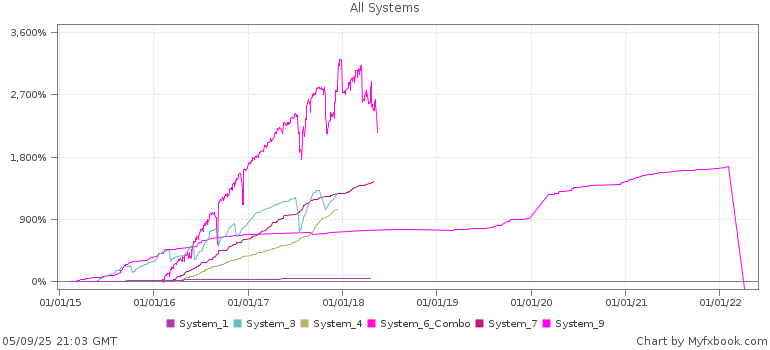 Systems that we recommend:
System 1 is the most stable and reliable system that we have. It has more than 18 months of live results and backtest results since 1997. This system is not sensitive to any kind of market news and trades without losses from year to year. Usually we recommend this system for Conservative style of trading. It is best for investors who doesn't need a big profitability, but want low drawdowns and stable results.
System 7 has live results for over 7 months and backtests since 2013. It is the most profitable system in our portfolio, but at the same time, the riskiest. Usually it has low drawdowns, but sometimes they may increase. However, it has nice profitability and even if losses occur, it quickly recovers a deposit. We use this system for Aggressive style of trading, when the main goal is getting a big profit.
About our systems
We have several years of experience in developing automated trading systems for the Forex Market. During this time, we have created an incredible array of trading systems. We traded with them on real accounts and tested them. We have selected the best, most profitable and most reliable systems for our investors.
We are pleased to introduce our automated systems to retail traders and institution with a verified track record, who will benefit from the transparent and profitable quality service with an absolute return.